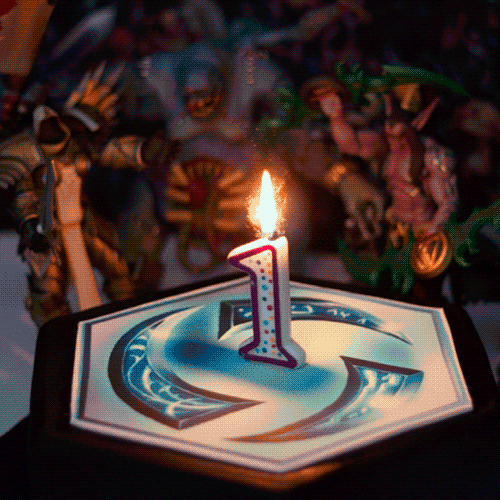 In-Game Events
There are a few gifts waiting for players in the Heroes of the Storm. A special in-game portrait and 50% bonus XP will be available to players from June 2 -14. Also a new First Anniversary Bundle will appear in the shop which includes: Arthas, Sgt.Hammer, Lt.Morales, Uther, Xul, Butcher, Kerrigan, Artanis, Tyrael's Charger mount and a seven day stimpack!
Store Discount
From June 2-19, players will be able to get a 15% discount on all Heroes of the Storm merchandise with the code HOTS15 (used at checkout). Also it will be possible to buy all four of the NECA Heroes of the Storm Action Figures for the price of three.
Hell Billie Mount
The Hell Billie mount is also now officially available! Every player can unlock it by making any real-money transaction. If you did not get Billie the kid yet, it is not too late as it will still obtainable until June 14.
Overall
Some of us have had the chance to be a part of this game since the Alpha, while others have been experiencing it since the Beta. The community has grown a tremendous amount in the past year. Here is a small list of the many events, tournaments and changes through the first year of the game!
Fifteen new heroes – Chromie and Medivh being the most recent
Ranked Play Revamps, with a bans and a whole new system on the way
Tracer was introduced as the very first Overwatch hero in the game
Many heroes had interesting reworks (Gazlow, Arthas, Anub'arak to name a few)
Heroes of the Dorm 2016
Blizzcon 2015 Championship
The Recuit a Friend option was added in the game
Cho'Gall was the first (and only) Hero introduced with a two-players on one hero mechanic
The hunted mines were removed from Quick Match (we still can't tell if it will ever return), while Sky Temple and the most recent maps were added
There is still an Arena Mode and an Unranked Draft mode in the making
The Eternal Conflict (Diablo Event!)
the Ultimate FanArt Contest
We have seen 2 Billie mounts and it's time to say good-bye to Billie the Kid to welcome Hell Billie
Looking Forward
This was a great year for the game development, but right now, players are looking towards the game's future. Many still ask for another cross-game related event like the Diablo one (The Eternal Conflict). Almost all of us are wondering: Illidan's Charger, what was it meant to be? Also, will the Haunted Mines be back in Quick Match eventually? What about the Arena Mode? Who will be the next Hero ? (We need more supports!).
We look forward to more releases and reveals in the upcoming year
Happy first anniversary Heroes!